Year 5 - Miss Brown
Overview for Term 1
English
This term, we shall be reading Viking Boy, by Tony Bradman. Through our reading of this action packed adventure story, of a young boy who becomes a warrior, we will further deepen their VIPERS reading skills of retrieval of key information, and inferences, as well as the valuable skill of explanation - whether it is their views on how and why authors have selected particular vocabulary, and structured their writing in a particular way or their predictions and own opinions about what they have read.

In our writing sessions, we will be focusing on developing the skills needed for writing for different purposes, and our stimuli for writing will link closely with that of our History based Enquiry topic of 'Who were the Britons after being invaded?'. Building on the knowledge we gain about the invasions from the Vikings, Anglo Saxons and Scots. We will be writing a wide range of genres with a focus on writing to entertain, inform, persuade and discuss.
Mathematics
In year 5 we are currently on the topic of place value, which involves ordering, comparing, and rounding numbers up to one hundred thousand. During this topic year five will also look at Roman Numerals. After this topic we will be moving onto addition and subtraction with greater numbers. We also have a 15 minute focus on mental maths with topics that link to our mathematics lesson to help us be prepared, and recap prior knowledge.
On Friday mornings, as part of the whole school approach to learning number bonds and times tables, the children will continue to participate in the Luckwell Maths Challenge; this is explained in further detail on the school's Maths curriculum webpage.
Enquiry
This term, we have a History focus. Using the question "Who were the Britons after being invaded?" Throughout this enquiry, children will build on their knowledge of the Vikings, Anglo Saxons and Scots, with a focus on their invasions, and how this had an impact. In addition children will learn about their lifestyles by researching, discussion and writing.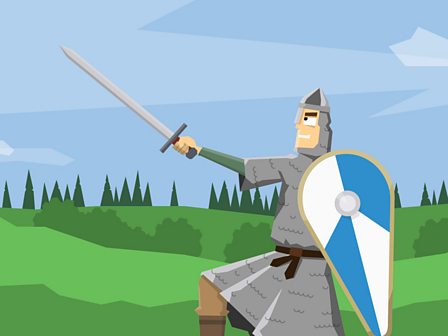 PSHE
The whole school approach to PSHE will continue to be supported by the Jigsaw Programme of work. This term, we shall be exploring "Becoming me in my world", through which children will be encouraged to think about what makes them unique, the differences we have from one another and how to positively react to changes and challenges, as we become older.
PE
This term, as part of the Real PE programme, children will continue to develop social team working skills with a particular focus on motivation and collaboration in order to execute different ball skills and apply this to games in PE.
All children are expected to participate in PE and be appropriately dressed in a PE kit (red top and black shorts). School asks that children come to school wearing their kit for the day.
RE
This term, Year 5 will focus on Christianity, by investigating the question 'What makes people special?' Through this inquiry, children will be encouraged to explore, examine and evaluate how Christians and Jews show their commitment to God and whether if there is a best way.
Additional information:
PE Tuesday and Wednesday Afternoons.
Forest School – Monday Afternoons – wear suitable clothing for outdoor activities. Additional information will be sent if necessary.
No school bags - only lunch boxes, book bags and water bottles please.
Reading Records to be brought to school. The expectation is that the children read at home at least 4 times per week and record this in their Record. Children have been shown how they should complete their reading. The records will be 'spot checked' on a regular basis by adults in the class, Miss Byers and perhaps on occasion, Mr. McClelland.
We are looking forward to working with you and your child over the next term to make sure they achieve their best!